Taking Care of Yourself! Encouraging Self-Care in Theatre Teams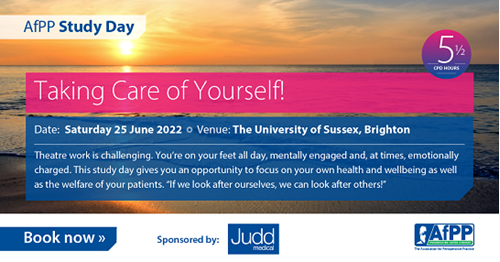 Date: 25 June 2022
Location: University of Sussex, Brighton
CPD: 5.5 Hours
Price: £50 for Non-Members, £25 for Members, FREE for Student Members
Perioperative practitioners have worked tirelessly to rise to the challenges presented in recent years, and now continue to face the challenge of managing record-breaking waiting lists. Theatre work is challenging. You're on your feet all day, mentally engaged and, at times, emotionally charged. This study day gives you an opportunity to focus on your own health and wellbeing as well as the welfare of your patients. "If we look after ourselves, we can look after others!"
Topics will include:
Review of mental health wellbeing and how to optimise it
Health diet and fluid intake
The benefits of exercise
Optional Tai Chi taster session
The importance of sleep and rest
Debriefing and feedback to prevent burnout and PTSD
Menopause awareness
Open debate: Achieving a work-life balance in a demanding perioperative role
Theatres of the Future: A Multi-Professional Approach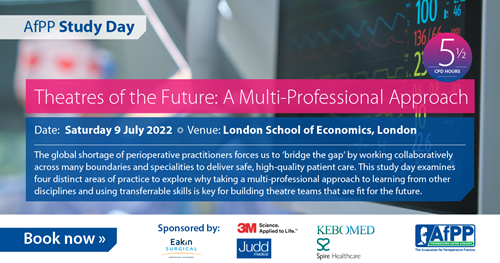 Date: 9 July 2022
Location: London School of Economics, London
CPD: 5.5 Hours
Price: £50 for Non-Members, £25 for Members, FREE for Student Members
The global shortage of perioperative practitioners forces us to 'bridge the gap' by working collaboratively across many boundaries and specialties to deliver safe, high-quality patient care. This study day examines four distinct areas of practice to explore why taking a multi-professional approach to learning from other disciplines and using transferrable skills is key for building theatre teams that are fit for the future.
Topics will include:
Lessons learnt as a consultant anaesthetist
Potential barriers to preventing harm
Recognising and managing difficult airways
Inadvertent hyperthermia prevention and management
'Not Just Small Adults' – paediatric perioperative care
Safe manual handling and patient positioning
Transferrable skills – from RODP to management