The Extended Surgical Team: Education, Research and Governance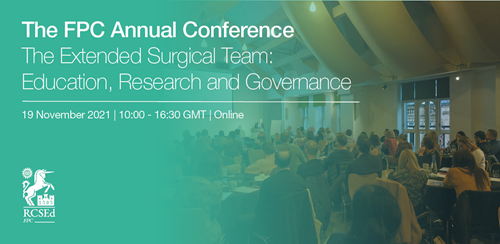 RCSEd's Faculty of Perioperative Care (FPC) are pleased to present their 7th Annual Conference, taking place on 19 November 2021, online, to allow for wider inclusion for all members of the extended surgical team and in particular, non-medically qualified practitioners.
The FPC conference is FREE to attend and provides an opportunity for members of the extended surgical team to meet, discuss issues and to gain relevant continuing professional development updates.
This year the Faculty are excited to explore educational resources both new and established, as well as offering an update on the Bi-Collegiate initiative overseeing the revision of the Surgical Care Practitioner Curriculum Framework and development of a managed voluntary register for Surgical Care Practitioners in addition to new developments for Advanced Clinical Practitioners and Physician Associates in Surgery.
Programme
The programme consists of four sessions based around the themes of education, research and governance, led by experts in their field. There will be an opportunity for questions built into sessions.
Keynote speakers for the conference are:
Mr Bill Allum: Consultant Upper GI Surgeon, Royal Marsden NHS Foundation, Council Member RCSEng
Mr Charlie Auld:

 

Lead for Faculty of Perioperative Care RCSEd
Mr Simon Kendall:

 

Consultant Cardiothoracic Surgeon, South Tees Hospital NHS Trust. President Society for Cardiothoracic Surgery
Mrs Frances Page:

 

Senior Lecturer in Surgical Care Practice Anglia Ruskin University
Mr David Ross,

 

Consultant Urological Surgeon, Salford Royal Hospital
Abstracts
One session will provide an opportunity for members of the extended surgical team to present their own work which may be in the areas of clinical practice, audit or research. The authors of top scoring PowerPoint poster abstracts will give a short 'podium' presentation. This is a new initiative to enable trainee and experienced researchers to showcase their work and gain experience of presenting to a wide audience of peers. Click here for full guidelines and submission criteria. The deadline for submissions is 24 October 2021.