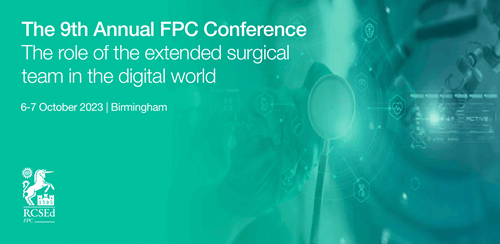 The Role of The Extended Surgical Team in the Digital World
The Faculty of Perioperative Care invites you to attend their 9th annual conference on 6-7 October 2023 in Birmingham.
The programme will bring together aspects of surgical patient care in the digital era, explore professional development and consider the importance of self-care.
On Friday 6 October delegates will have the opportunity to experience hands on workshops and meet with industry clinical experts; whilst on Saturday 7 October, the main conference will explore the opportunities, challenges and considerations facing practitioners working with the technology emerging in support of the patient journey.
In addition, the response of the extended surgical team to the challenges that emerged during the SARS-CoV-2 pandemic and the opportunities for service development generated will be addressed.

Abstracts are now open!
Theme: The Role of Extended Surgical Team in the 21st Century Digital World
The closing date for receipt of abstracts is 17:00 BST on 28 July 2023.
View full abstract guidelines and submission details HERE.