Past Conferences
FPC Annual Conference: 19 November 2022

On Saturday 19 November 2022, The Faculty of Perioperative Care are pleased to be hosting their 8th Annual Conference in person at the Royal College of Surgeons of Edinburgh.  This will be an opportunity for delegates to network and hear from influential speakers across the field. 
The conference theme will focus on ' The Surgical Multidisciplinary Team: delivering safe, skilled and effective care.
The Co-Convenors for the conference will be, Ms Susan Hall, Associate Lecturer in Surgical Care Practice at Anglia Ruskin University and Prof. Bhuvaneswari Krishnamoorthy, Professor in Nursing and Surgical Practice.
More details about the programme will be announced soon.
2022 AfPP Annual Conference: 8 - 11 September 2022

The Association for Perioperative Practice (AfPP) is the UK's leading association for perioperative practitioners. For almost 60 years, they have been supporting everyone working in and around the operating department to be the best practitioner they can be.
Their annual conference is one of the biggest dates in the professional calendar. Join them at #AfPPConf2022:
Gain up to 13 CPD hours
Network with 500+ of your perioperative peers
Learn from 20+ expert speakers
Explore 4 different learning streams
Meet 40+ industry exhibitors
This year's theme is 'Anything is possible.' Dealing with COVID, redeployment and backlogs has taken its toll on the perioperative community. The conference will explore how we can move forward to enhance patient safety, quality of care, staff wellbeing and career progression.
Expect lectures with live Q&A sessions, speed education, practical workshops and more to inform, challenge and inspire you!
FPC Annual Conference - 19 November 2021
RCSEd's Faculty of Perioperative Care (FPC) are pleased to present their 7th Annual Conference, taking place online to allow for wider inclusion for all members of the extended surgical team and in particular, non-medically qualified practitioners.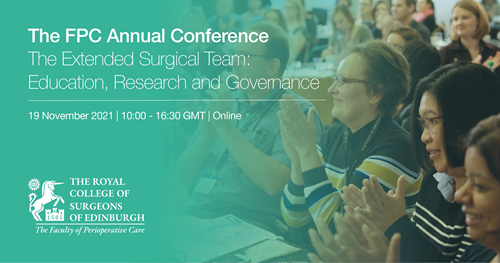 Future Surgery Show 9-10 November 2021
Join the Faculty of Perioperative Care at RCSEd Stand AF70 on 9–10 November at the Excel London for the Future Surgery Show! Bringing together Surgeons, Anesthetists and the whole perioperative team, the show will explore disruptive technology, human factors, and training and research efforts that aim to transform the profession for both our colleagues and patients themselves.
Faculty lead, Mr Charlie Auld will be part of the panel discussing the Bi-Collegiate Collaboration of the Faculty of Perioperative Care in Theatre 2 at 11:15am on Tuesday 9 November.
Register now to listen to these expert led sessions and come stop by the RCSEd stand to chat with our dedicated team and let us know how we can support you in your career development.