FPC Annual Conference - 19 November 2021
RCSEd's Faculty of Perioperative Care (FPC) are pleased to present their 7th Annual Conference, taking place online to allow for wider inclusion for all members of the extended surgical team and in particular, non-medically qualified practitioners.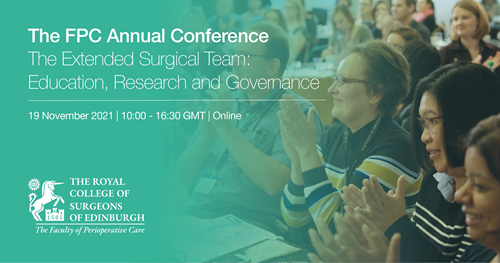 Future Surgery Show 9-10 November 2021
Join the Faculty of Perioperative Care at RCSEd Stand AF70 on 9–10 November at the Excel London for the Future Surgery Show! Bringing together Surgeons, Anesthetists and the whole perioperative team, the show will explore disruptive technology, human factors, and training and research efforts that aim to transform the profession for both our colleagues and patients themselves.
Faculty lead, Mr Charlie Auld will be part of the panel discussing the Bi-Collegiate Collaboration of the Faculty of Perioperative Care in Theatre 2 at 11:15am on Tuesday 9 November.
Register now to listen to these expert led sessions and come stop by the RCSEd stand to chat with our dedicated team and let us know how we can support you in your career development.