Past Events
Theatres of the Future: A Multi-Professional Approach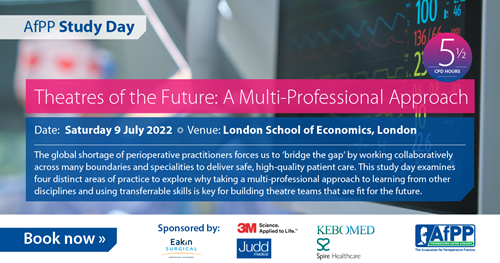 Date: 9 July 2022
Location: London School of Economics, London
CPD: 5.5 Hours
Price: £50 for Non-Members, £25 for Members, FREE for Student Members
The global shortage of perioperative practitioners forces us to 'bridge the gap' by working collaboratively across many boundaries and specialties to deliver safe, high-quality patient care. This study day examines four distinct areas of practice to explore why taking a multi-professional approach to learning from other disciplines and using transferrable skills is key for building theatre teams that are fit for the future.
Topics will include:
Lessons learnt as a consultant anaesthetist
Potential barriers to preventing harm
Recognising and managing difficult airways
Inadvertent hyperthermia prevention and management
'Not Just Small Adults' – paediatric perioperative care
Safe manual handling and patient positioning
Transferrable skills – from RODP to management

Future Surgery Show 9-10 November 2021
Join the Faculty of Perioperative Care at RCSEd Stand AF70 on 9–10 November at the Excel London for the Future Surgery Show! Bringing together Surgeons, Anesthetists and the whole perioperative team, the show will explore disruptive technology, human factors, and training and research efforts that aim to transform the profession for both our colleagues and patients themselves.
Faculty lead, Mr Charlie Auld will be part of the panel discussing the Bi-Collegiate Collaboration of the Faculty of Perioperative Care in Theatre 2 at 11:15am on Tuesday 9 November.
Register now to listen to these expert led sessions and come stop by the RCSEd stand to chat with our dedicated team and let us know how we can support you in your career development.