Stephanie Hayward Receives Academic Award
26 July 2023 2:47pm

Back to News Home
The Faculty of Perioperative Care (FPC) is proud of its partnership with the University of Plymouth which strives to transform health professionals into competent Surgical Care Practitioners.
The University of Plymouth delivers MSc Surgical Care Practitioner programmes in three specialist areas. Students undertaking this training are entitled to free affiliate membership of the FPC for the duration of their course. This is a great opportunity for trainees to gain access to benefits to support their learning and professional development.
The purpose of the MSc Surgical Care Practitioner programme aligns with the values of the Faculty which aims to provide education and training and set standards for practitioners to deliver safe surgical care - whilst also recognising the important role perioperative practitioners play as part of the wider surgical team.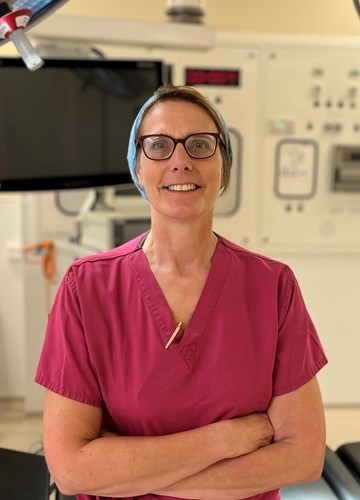 Stephanie Hayward had the honour of receiving an award from the Faculty in recognition of outstanding academic achievement upon graduating from the MSc Advanced Clinical Practitioner in Surgical Care (Abdominal, Pelvic and General Surgery) programme at the University of Plymouth. Below Stephanie shares her insights on the course: 
What did you enjoy most about your course at Plymouth University?
The diversity of content and the different styles of applied research made the course engaging and developed my approach towards critical thinking. I had no previous theatre experience so that was a huge learning curve which was both enjoyable and extremely nerve racking at times! Starting the course during the COVID19 pandemic (September 2020) brought its own challenges - learning via Zoom was a new experience, and I didn't travel to Plymouth and meet my fellow students face to face until the end of the first academic year ! When I finally got there, the historic setting of Plymouth and the fantastic range of experience that was brought by my fellow students made every trip to the university really enjoyable and I've made some firm friends from all over the South Coast that I will keep in touch with. 
What surprised you most about the course?
The immediate applicability of what I learnt during my studies to my everyday job. I felt more confident and motivated to apply my knowledge to my role, and was encouraged and supported to apply new skills in theatre, clinic and on the wards. 
​Why do you think people should consider training as an Advanced Clinical Practitioner? 
There are several reasons why people should consider training as an Advanced Clinical Practitioner (ACP):
The ACP training encourages those with experience and skills to further apply these skills in the diagnosis, treatment, and management of complex conditions. This expanded scope of practice enables ACP's to take on more responsibility and make a significant impact on patient experience and outcomes.
As an ACP, we can help in addressing workforce challenges and help meet the healthcare needs of the population. The role opens up more career opportunities, encouraging leadership, autonomy and flexibility whilst delivering contemporary, evidence based, patient centered care. The ACP role encourages continuing professional development, improves self -confidence and personal growth and achievement along with the acquisition of new skills. 
What are the key take-aways from your course that you will keep most in mind when in practice? 
I particularly enjoy the expanded scope of practice that the ACP training has brought with my SCP role. I have learnt to apply my advanced knowledge and critical thinking skills and been given a level of autonomy that I did not have in my previous senior nursing role. This role has allowed me to really integrate into the surgical team, whilst supporting patients and staff on the ward. This has had a really positive impact on my own self confidence as an autonomous practitioner and improved communication and team working.